How do you actually apply for a Guinness World Record attempt?
We weren't sure where to start but we did a Google search to see what the current record was for this record, and stumbled upon a write up about a group of 4 that had run the London Marathon as a fire truck in 05:20. Since we can all run a sub 4 marathon, we thought this attempt would be within our reach and got to work on the application process.
Application starts with creating an account at Guinnessworldrecords.com. Once you have an account created you are able to do a comprehensive search of all current record holders. In order to apply we found the name of the record and put in our official application. We had to specify which Marathon, goal time, and persons on the team.
Note: You cannot attempt record without an approval from the GWR first. Build in extra time to allow for them to review and approve your attempt.
Once our application was reviewed by GWR, it proceeded to the next phase where we were given a list of criteria that must be followed in order to break the record (i.e. Costume must be carried by team, restroom break guidelines, etc). In order to get fully approved for the attempt, we also had to submit finished photos of the costume to ensure it's instantly recognizable as a costume during the race.  Our original attempt was sent back to us, and that's where we spent a little more time to work on the stripes and put the antenna onto the RADepillar.
Submission 1 photo (rejected)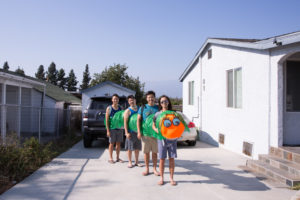 Submission 2 photo (accepted)