With the colder weather approaching Central Europe/Asia, I was intending to visit to parts of Kazakhstan and Kyrgyzstan before winter fully approaches. As such, I tried to pack the most I could into 72 hours in and around Baku before moving on. The three days in Baku was a mix of museum, exploring the city and getting outside of Baku to the more diverse landscapes of Azerbaijan. If you stayed only in Baku, you would think the entire country was flat and dry!
First 24 hours
After taking the night train from Tbilisi, Georgia to Baku, I checked into the SAHIL Hostel & Hotel which is centrally located near the high end shopping stores and restaurants and hit the streets. For a budget traveller, I would recommend staying here, it's located centrally, clean and a great way to save some cash at ~$5USD a night.
Azerbaijain Carpet Museum
As boring as this place sounds, it peaked my interest as to why a country would spend time and money to create a building in the shape of a rolled up rug. The admission price at my time of visit was 7AZN, roughly $4 USD, and worth a quick stroll through to see live demonstrations of carpet making and see some carpets dating back to the 14th century.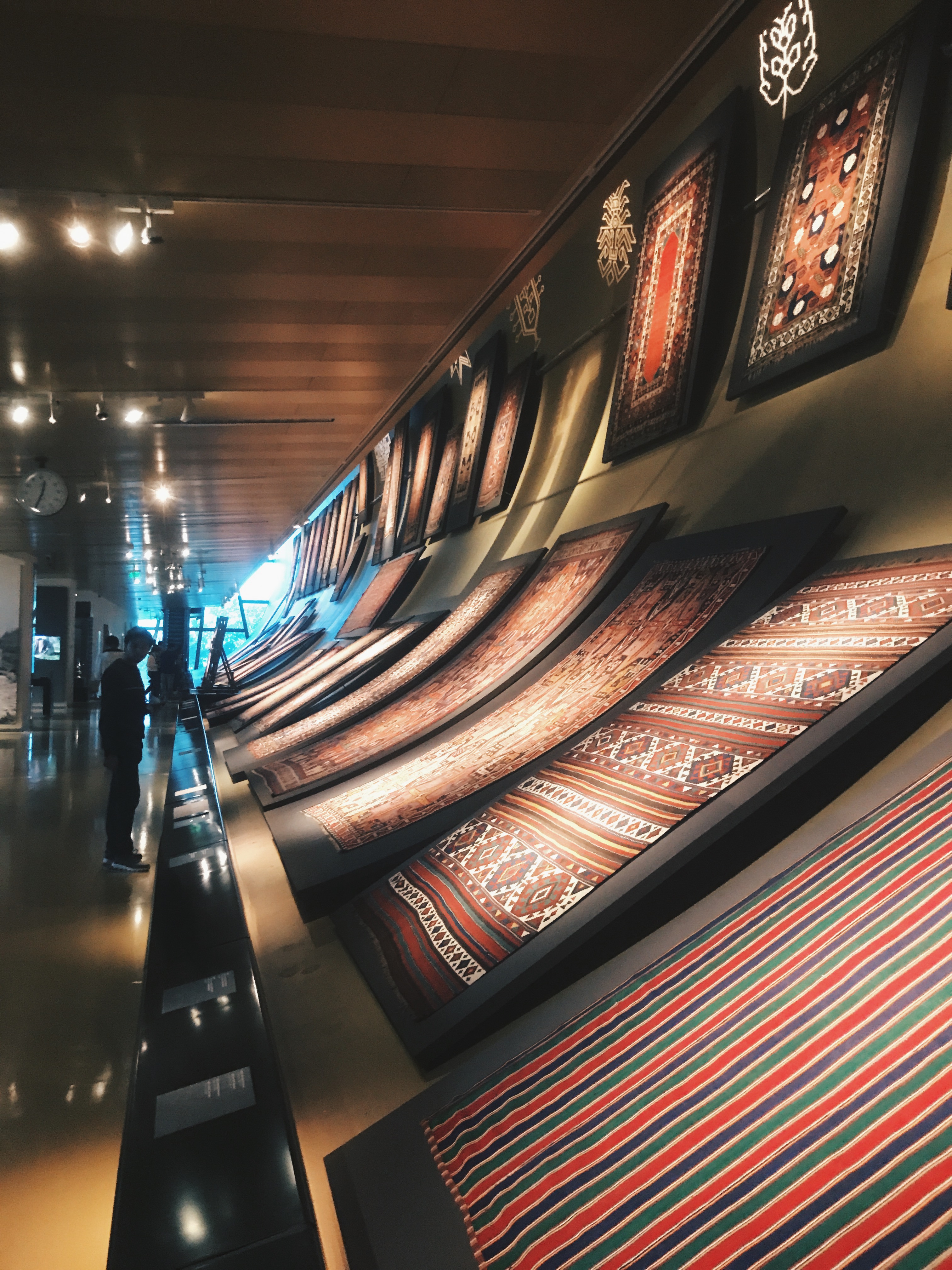 Old Town Baku
Just a few minutes walk from the downtown area, the Old Town feels like you are stepping back in time with it's exterior fortress and stone lined streets. Walking around the area you will find antique shops and and endless number of vendors selling sweets, teas and freshly made treats. It's a little touristy, but a must do while you are in town.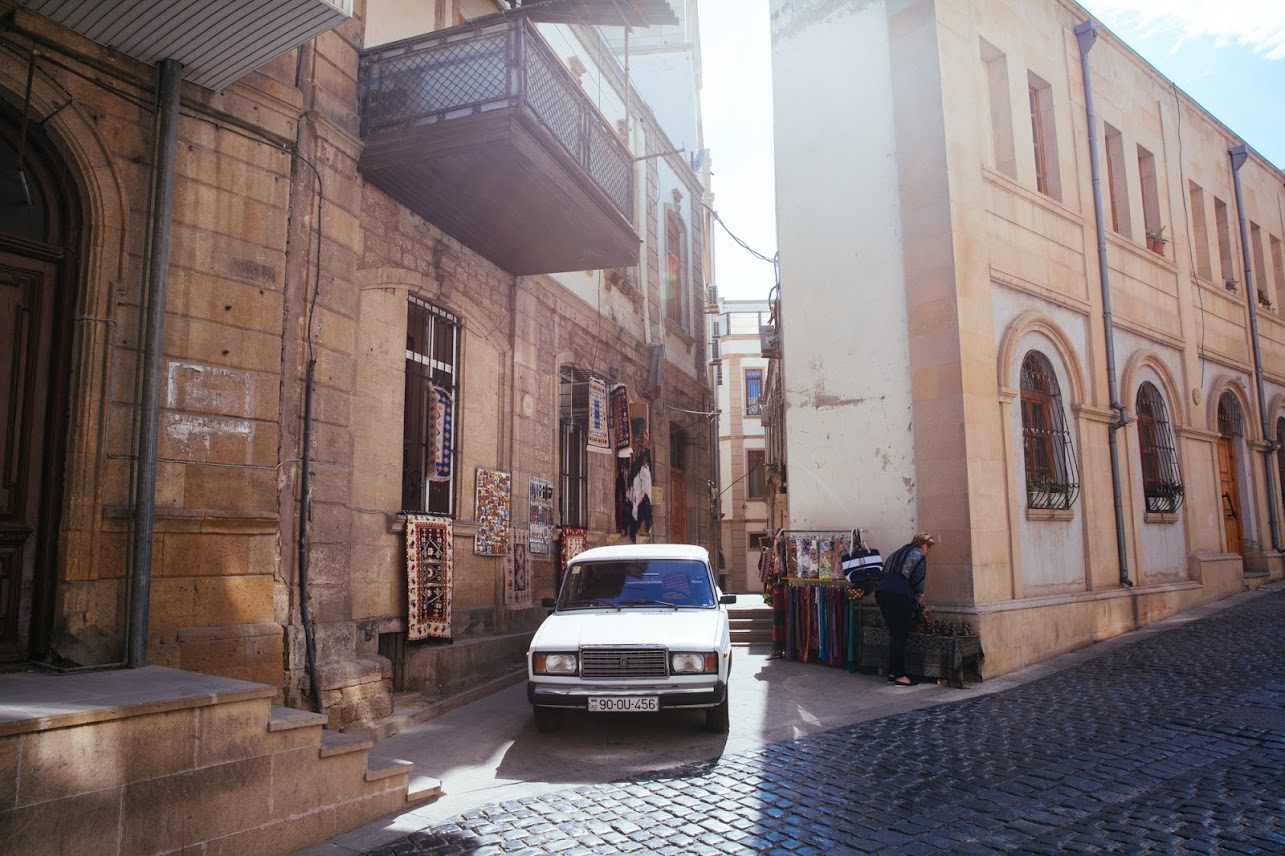 İçərişəhər Bookhouse & Cafe
Through some of the winding streets I stumbled upon a cozy book cafe that is setup for folks to hang out, study and do some reading with tea and other snacks. I spent a few hours here catching up on a novel and trying out some of their tea and sweets. A great way to unwind after the long day walking around Baku!
Local pastries
Around the town you will find a lot of bakeries with ladies behind the counter rolling dough, and placing them into stone ovens to bake. The breads that come out of these are simply amazing and a must do while visiting any of the countries in the Caucasus. One of my favorite varieties is a bread baked with local green vegetables inside.
Day #2 – Let's head to the Mountains
Khinaliq, is one of the oldest continuously inhabited places in the world. The thought occurred to me, I could either spend the day exploring the natural mud volcanos or head to the mountains. I have a weak spot for mountains and joined a long day trip to one of the highest villages in Europe at 2350m/7710ft. Typically when I am backpacking I try to avoid tours, but the public transportation here would have been tricky and would leave me with little time to see other sites along the way.
Eagle Valley
One of the most surreal parts of the trip was not the final destination, about a hour from the city of Quba, called the Eagle Valley. Just a short hop out of the car and we we're standing on a cliff overlooking a large canyon, and spotting wild eagles flying close. It was a surreal moment with the clouds rolling in from behind us and seeing the contrast from the flat and dry area of Baku.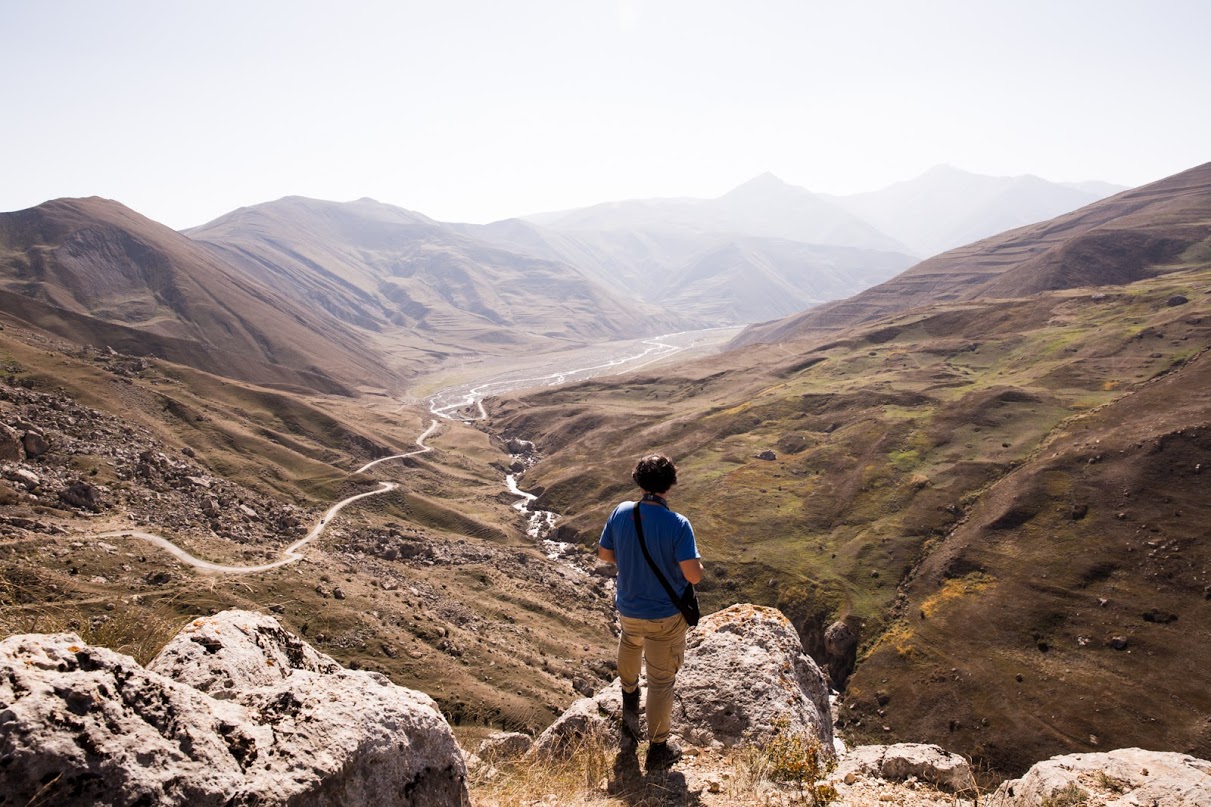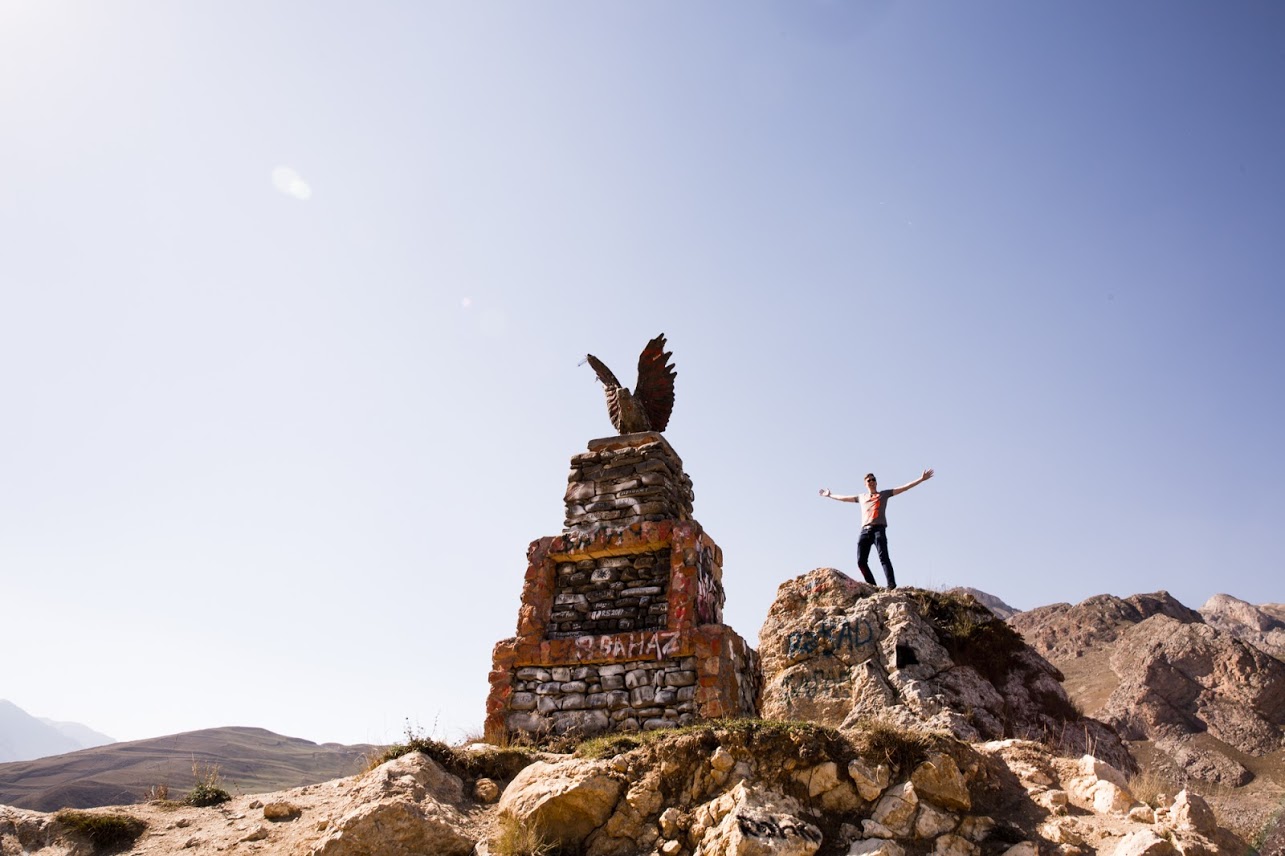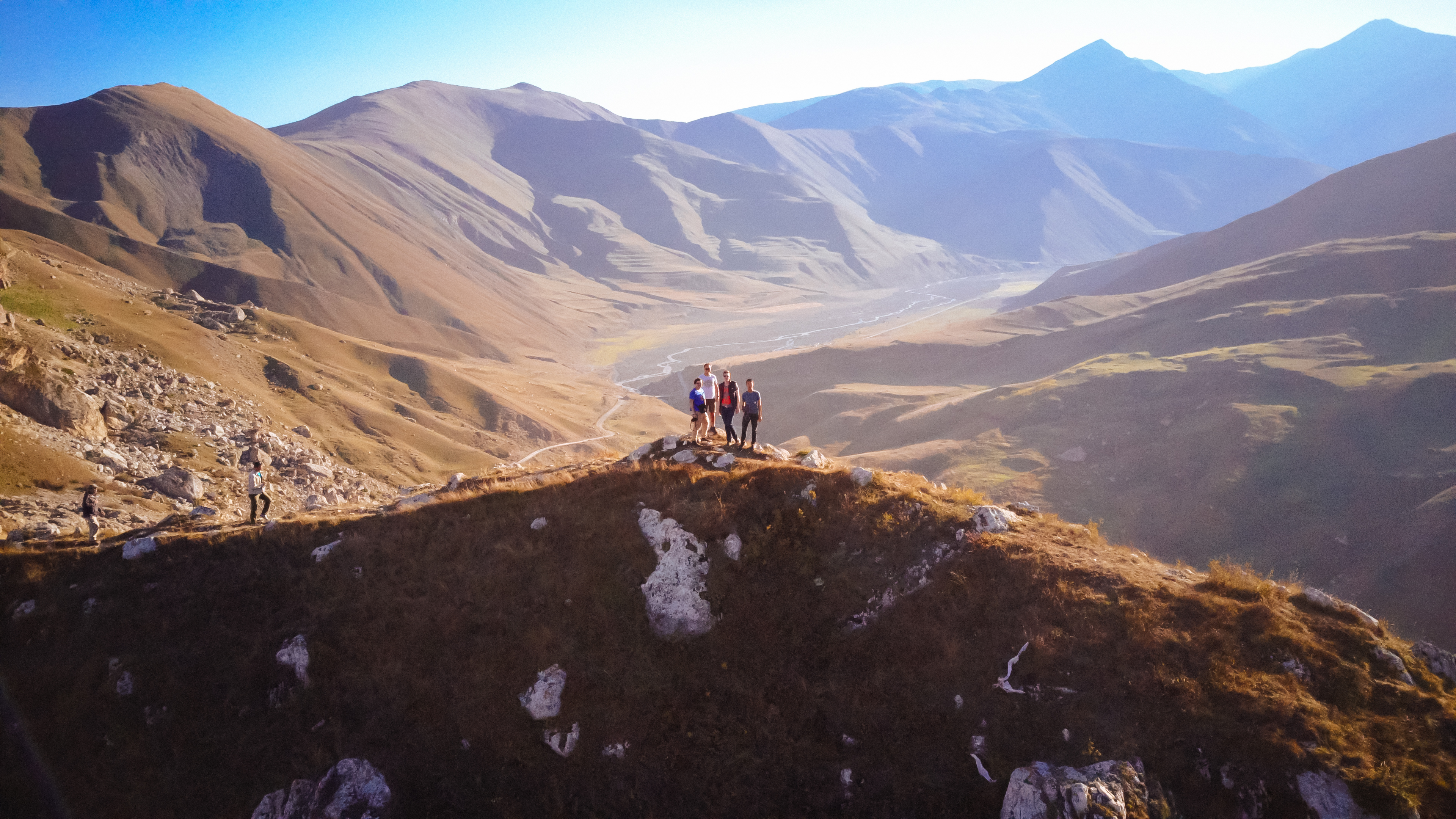 Khinaliq Village
The journey to Kinaliq village is long, with lots of dirt roads and some moments where you feel like the car could possibly get stuck. We arrived around 1pm and was excited to be having lunch with some locals who have converted converted their home into a guest house. We were treated to a home cooked meal which included lamb plov, local sheep cheese, eggplant and a cucumber and tomato salad. The sheep cheese here was simply the best I have had, and it turns out to be made locally within the village. After lunch we were served local black tea that's popular everywhere in Azerbaijan and candied cherries to finish off with a sugar rush.
The journey to Khinaliq was an entire day from 9am to 9pm, and I would highly recommend this as a part your itinerary in Baku.
Day #3 – Baku Runners Club & Relaxing on the shore
Any visit to a country wouldn't be complete without a chance to meet and interact with some locals. I did a quick google search and found the Baku Runners club and headed out the door in the morning to make the 10am call time. The running group had been started by an ex-pat a few years ago, but attracts both locals and foreigners alike. The Saturday run was a 10k that follows the harbor and turns back around to finish at the Cafe where you can leave your belongings, it's also a chance to grab a coffee and socialize.
During my run, I met Mayis from Baku, who has been part of the running club for a while and kindly offered to help me call the port to find out when the boat to Kazakhstan would be arriving in Baku. He was excited to talk about his upcoming move to Germany for his MBA! It's interactions like these, and a chance to learn about the local culture with people that make my journey worthwhile.
I also had a chance to meet Sarah from Australia, and we connected pretty quickly on travels and learned that she had recently moved here with her husband and kids for two years, as her husband works for an oil company. She asked where I was staying and even offered me a place to crash if I was going to be in Baku for longer. It was really inspiring to meet such an welcoming and super fit young mother in just a few kilometers!
Catching a sunset on the shore
The last part of my evening was spent near the beautiful shoreline, where you find many families and teenagers walking around and enjoying the afternoon sun. Looking out over the skyline and water, it made me feel like I am in just another European city. I was a little skeptical about visiting Baku, but it's a nice place to spend a few days during your time in the Caucasus.